Gehlen Catholic Mission Honduras

Changing Lives

2017 Journey
On Tuesday, March 14, the seventeenth Gehlen Catholic Mission Honduras student mission team participated in the send-off prayer service in the Jason Puetz Memorial Gym. This year's theme "Stand in the Light" shone through all the activities of the prayer service. Morgan Whitehead and Joscelyn Schipper, both participants with the 2015 team, spoke about what the mission trips meant to them and gave the missioners some tips on how to survive a mission trip. The missioners then lit candles as the Christian Leadership Team members read aloud the reason each missioner was lighting his/her candle and why he/she wanted to participate in the mission trip. All missioners then received their t-shirts, crosses, and "junta" booklets from various family members, as we said our farewells before leaving the gym.
Mission team members walked out of the gym through the school hallways to the bus while Gehlen Catholic School students and staff, along with family members and friends, created a human tunnel for us to traverse. Each person was encouraged to touch the bags the missioners carried to signify that a part of them would travel with the missioners into Honduras.
Delivering gift bags I knew would have an impact on the Honduran families, but it had an even greater affect on me. I was able to see their houses and dirt floors.
~ Brady Livermore
Not a day goes by that I don't think of all the little Honduran kids and how they are doing.
~ Brooke Harpenau

The 2017 Gehlen Catholic Mission Team had the lofty goals of constructing homes for three poverty stricken families in the Nueva Capital area of Tegucigalpa, building several bunk beds, teaching the rosary to elementary students in the school, and delivering as many gift bags as possible during our stay in Nueva Capital. Nueva Capital is mainly comprised of families who had to move to higher ground when Hurricane Mitch destroyed their homes in 1998. We believe approximately 125,000 people live in the Nueva Capital area. Due to the unavailability of water projects in the area to which we'd previously traveled, this year's Gehlen Catholic Mission team focused on construction, similar to the 2014, 2015, and 2016 teams. The team worked in Honduras from March 15th to March 24th.
Francis Seivert, Julio Rivera, and Marta Sosa, met the team at Toncontin Airport in Tegucigalpa. Francis had been in Honduras for a few months, preparing for the team's arrival, as well as working with various children who have medical problems. Julio Rivera accompanies Francis throughout Honduras and is a long-time friend of Mission Honduras LeMars, Gehlen Mission Honduras, and Then Feed Just One. Marta Sosa, a member of the Cerro de Plata Foundation in Tegucigalpa, handles the distribution of Then Feed Just One food in Honduras. She also helped in the planning for this year's Gehlen Mission trip, as well as the previous trips into this area. After the transport truck was loaded with the 72 bags of materials, the team climbed onto buses and was on the way to Nueva Capital.
It bothers me that I never really thought about the daily struggles of those living in poverty. The best thing this trip has taught me is that, one, I am blessed beyond belief.
~ Catherine Russell
Traveling to Honduras was truly a life-changing experience for me. Not only did it open my eye to the poverty-filled lifestyle of so many people in our world, but it also showed me that Jesus really is present in everyone.
~ Cooper Davis

This year's mission team consisted of Carolyn Bickford (team leader), Francis Seivert, Linda Reichle, Pat Jones, Bruce Kellen, Jeremy Sauer, Dennis Schmit, Ken Schmit, Juan Uribe, Andi Janezich, Kevin Pratt, Jim Klein, Daniel Goergen, as chaperones; Steph Heuertz, Deven Paulsen, Colin Wise, Thomas Holzman, Brian Sauer, Brooke Harpenau, Kaylee Schmit, Catalina Uribe, Breanna Jurenic, Amanda Jurenic, Madison Schroeder, Atze Atsma, Dustin Schmit, Jade Goergen, Cooper Davis, Reanna Holton, Lucas McCarty, Brady Livermore - Gehlen Catholic High School students; and Catherine Russell, Hannah Loutsch, Michael Koenck, and Haley Delperdang - Remsen St. Mary's High School students. After arriving at Santa Teresa de Jesús School, our compound for the trip, the team settled into our cramped quarters and prepared for our 10-day mission.
Another eye-opening thing was seeing families digging through garbage, trying to find food scraps or junk to use on their houses.
~ Kaylee Schmit
In one of the poorest countries in the world, I grew very close to people that are very different from me. I played with kids every day. They touched my heart deeply.
~ Michael Koenck

Each missioner on Gehlen Catholic mission trips is responsible for his/her own costs. To date the Gehlen and Mission Honduras programs combined have placed 872 missioners (38 different teams) on the ground in the second poorest country in the western hemisphere. Five other mission programs have been created from Gehlen Mission Honduras - the Briar Cliff University program in Sioux City, IA; the Sisters of St. Francis, from Dubuque, IA; the high school mission teams from Springfield Catholic High in Springfield, MO, St. Thomas More High School, Rapid City, SD; and Bishop Heelan High School, Sioux City, IA. The Gehlen program, along with the Briar Cliff, the Sister Water Project, Mission Honduras LeMars, and Rotary For Life Water Project, have completed 41 water projects to date and sent ten full scale medical brigades over the years. Clean drinkable water, Then Feed Just One food, home building, and professional medical care, remain the major goals of the Gehlen Catholic / Mission Honduras program. For more information on the medical program please visit this same website for the January medical trips. For more information on Then Feed Just One please visit www.thenfeedjustone.org. For more information on Mission Honduras LeMars go to www.missionhonduraslemars.org.
I've never seen poverty like this before, and it was hard to process because I've grown up always having everything I needed right when I needed it. I've never had to go without a meal like they do so often.
~ Reanna Holton
Everyone always talked about how they saw so much poverty and what not; but for me, I saw the happiness, love, pride, and beauty of the nation and the people.
~ Steph Heuertz

Because there is much preparation that needs to be completed before the team travels into Honduras, planning for this year's mission team began during the summer of 2016. With the lack of water projects around the Esquias area, and other mitigating circumstances, it was determined four years ago the team would take a new direction, focusing on relocating to Nueva Capital. Marta Sosa of the Cerro de Plata Foundation, in conjunction with ACOES located three extremely poor families in the Nueva Capital area of Tegucigalpa who desperately needed homes. Planning then began to prepare the team in the task of the home constructions.
The team "lived" at the school, using classrooms as dormitory rooms. Supplies - such as paint, construction tools, painting supplies, generators - that the team used were stored inside our dorm rooms also. Missioners slept on mattresses that were placed on the floors in the classrooms. The team used the library for meals, which were prepared each day by the hired cooks, Cinthia and Marlene. Work days began at 6:00 – 6:30 a.m., allowing the team time to eat breakfast and finish chores before beginning the day's project.
I may be home, but there will always be a part of me in Honduras, and I will never forget the trip.
~ Thomas Holzman
Maybe the Hondurans have a better sense of the theological virtue of hope, which is ordered towards the next life and not this one. That may be the greatest lesson that take away from this whole experience (mission trip).
~ Pat Jones

The missioners were divided into groups each day to undertake the various jobs in the area. One group taught the rosary in Spanish in grade levels 3 - 5. Another group might work on putting together gift bags of the donated products, while another group might build bunk beds. Each day the missioners were divided into different groups to allow each missioner to do the various jobs. After the homes were built, the missioners and families painted the outside and inside of each home and installed the wiring, even if the family did not have access to electricity presently. Once that task was completed, the student missioners took a day to make each home "special" by brainstorming possible enhancements to each home. Then, the students created/built those items with the help of the adult missioners. The student missioners truly enjoyed the chance to install items like shelves, benches, tables, and toothbrush holders into each home.
This mission team was also given a challenge by a member of the Project Paul Team, who had just finished their mission of home building in the same area. Our team was challenged to perform sixty push-ups each day in order to earn $60 for each day they accomplished that task. The money could be used in any way the team desired. The Gehlen Mission Team agreed to take on that challenge and earned $300 that they used to purchase groceries for the three families. They also purchased some items that each family could use, like plastic chairs, tortilla makers, plates, glasses, and silverware.
The love of Christ is evident in the Hondurans' lives, which evolve around the important things...family, friends, and the basic life essentials, which include food, water, and shelter.
~ Linda Reichle
Here we have all that we need and many luxuries in life, yet when we give up most of these luxuries and spend 10 days in Honduras, we are filled with joy. It seems our happiness comes not from what we have, but in what we are able to do for others.
~ Jim Klein

The overall Gehlen Catholic Mission Honduras 'Changing Lives' program has three main goals for each mission journey into Honduras: to do a work project of some kind, to immerse themselves into normal Honduras life, and to experience the poverty that grips so much of this beautiful country and people.
When the missioners delivered the gift bags to the homes of the Santa Teresa school children, the poverty was quite apparent to all. The families receiving the gift bags smiled as the missioners unpacked soap, shampoo, toothbrushes, toothpaste, lotion, toys, clothes, and shoes. Even the bag the items were delivered in was considered a gift to the family. Seeing the dirt floors and walls of worn boards with gaps between them, truly gave the missioners an eye-opening look at the reality in which the Honduran children live each day. The formidable walks the children undertake in the early morning hours to get to school by 7 a.m. showed how important their education is to them.
The most difficult part of the trip was definitely leaving. Saying good-bye to the families and kids that we bonded with was super hard.
~ Jade Goergen
I still to this day can't explain everything we experienced to anybody. There is so much we got to do that nobody can fully understand.
~ Hannah Loutsch

Once the homes were completed, the missioners had a home blessing ceremony. During the ceremony the priest blessed each home, both inside and out. The families receiving the homes took the opportunity to thank each and every missioner for their beautiful homes. The house keys were handed to the home owner, who signed papers of ownership while we witnessed the signatures. As a special touch, a wooden cross that was made by Jim Konz and signed by all missioners, was hung in the home to remind everyone that God's light will continue to shine in each family that received a home. Our prayer is that the families will continue to share Christ's light with all around them.
The day of our departure, the missioners were given a farewell at the morning school program. Principal Jessica thanked the 2017 Gehlen Catholic Mission Team and spoke to everyone about the wonderful example we had set for her students through our hard work, our willingness to speak with them in Spanish, and the positive role models we had set for her students. The missioners also thrilled the school students by presenting the school with several soccer balls. These soccer balls were donated by One World Play Project, whose goal is to donate soccer balls to groups living in poor areas around the world.
The Hondurans showed me that the saying "money doesn't buy happiness" is really true.
~ Deven Paulsen
When they saw us washing our clothes, they would just stare because we had so many clothes compared to them. They would wear the same thing, day in and day out.
~ Haley Delperdang

Every evening of the mission trip the missioners gather together in what is called the "junta." The junta provides the missioners a time to share some of the items in our personal journal, but more importantly, it provides the missioners an opportunity to process all we are witnessing during our mission trip. Often emotional, none was more emotional than the final junta the night before the missioners left.
At the end of the meeting, Carolyn Bickford shared a message with the team from Director Richard Seivert titled "Sometimes I Feel So Small / No Danger in Forgetting." (GCMH blog on Thursday, March 23) Seivert's last paragraph stated: "I can tell you this in printed words - maybe not in person - but I feel very special when I am in the presence of children in poverty - almost small. Almost like I am standing in the shadow of greatness - because they, children in poverty, have caused me to be everything I am today. Thus, I hope your relationships to the children and people of Honduras continue to grow and flourish in all the years to come. I know you have made a huge difference in their lives. How about you? Have they made a difference in YOURS?"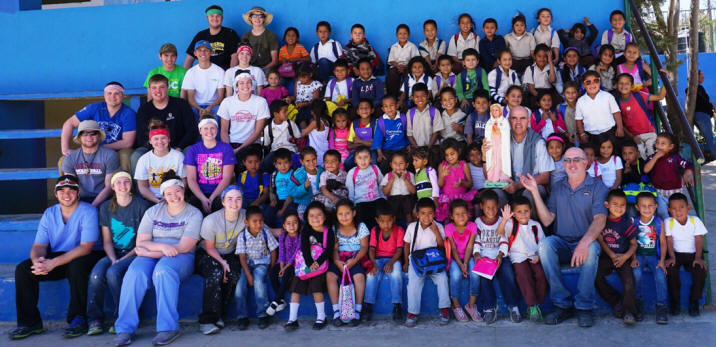 Kevin Pratt carried the statue of Mary into Honduras and presented it to Fr. Patricio and the Santa Teresa de Jesús School students during the mission trip. The statue of Mary was carved & donated by Jerry Traufler.
The 2017 mission team more than met the goals of our mission trip. From working diligently on our chosen work projects, to playing with the children, to participating in liturgies, the team received the opportunity to see what Honduran life is like. From hand washing our own clothes in the pila, doing daily chores, and taking one-minute cold showers, our missioners experienced a little of what life is like for a person in Honduras. The missioners worked hard at using their Spanish, and many students were happy to be able to carry on a conversation with someone in Honduras. Many friendships were forged. Not a single team member was ready to return to the States when the final day of our trip arrived.
It has become customary for the missioners to return home with only the clothes on our backs. Team members sorted through all personal belongings and stacked them in a designated area in the library. These items will be taken by the ladies and men of Nueva Capital, washed, and distributed among those who are the neediest. Team members leave not only our clothing, but our shoes, flashlights, sunglasses, and other items. That alone says a great deal about the quality of young people with whom we deal on our mission teams.
When people ask me what it was like, it is hard to put into words. This is something that needs to be experienced; it cannot be explained.
~ Dustin Schmit
We stand in Jesus' light with open eyes and truly understand that when we left on a mission trip, our ten-day mission was only the beginning of a life of service.
~ Carolyn Bickford
The physically exhausted missioners returned home to our families' welcome at the Omaha airport late on March 24. Though all missioners were happy to be home, every single person shared his/her wonderful mission experience with all who would listen. This year's theme "Stand in the Light" was shown by all missioners as we lived our mission journey in Honduras. Each day we stood in God's light as we worked and played among the Hondurans. We stood in God's light as we prayed the rosary with the elementary students. We stood in God's light as our lives were changed through our mission work. Gehlen Catholic Mission Honduras 'Changing Lives' – was proven by every missioner!

| | |
| --- | --- |
| I suspect that some of you have begun to change your viewpoint about the world and different people within it - and that's good. I hope you will protect your memories of this mission with care. Let them teach and make you feel things you normally do not learn and sense. Cry if you want to but tell your stories, don't just put them off on the side - rather, let them out and give them a chance to make a difference in who you become, but also a difference in others' lives as well. Let them flow throughout your thoughts and deeds each and every day from this moment on. | ~ Richard Seivert, written in his message to the 2017 Gehlen Mission Team and read to the missioners at the final "junta" on Thursday evening, March 23 |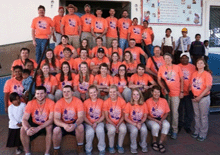 Click above to browse the March 2017 Trip Photo Album...
| | | |
| --- | --- | --- |
| Listen with your heart, | Learn with your mind, | Love with your actions. |